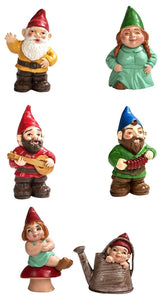 Description:
MEET THE GNOME FAMILY – The Gnome Family is here, so come and they're ready to celebrate! This TOOB features Madam Gnome and a Papa Gnome, a Young Gnome in a watering can, Miss Gnome sitting on a toadstool, and two gnome musicians: the Accordionist and Banjoist Gnomes!

LEGEND OF THE GNOME – Gnomes are small magical spirits, typically depicted as short and stocky human-like figures with plump proportions and pointed hats. Gnomes are referenced as far back as the 16th century, and are often associated with the earth and as such are known to dwell underground.

WHIMSICAL FRIENDS – The Gnome Family has come out to celebrate with you! These individually hand-painted, rosy-cheeked gnome figurines are ready for a gnome jamboree! With their smiling faces and happy poses, they are ready to play some music or maybe get into a little bit of mischief.

MADE WITH INDUSTRY–LEADING STANDARDS – Like all Safari Ltd products, these figures have been individually hand painted, features quality construction from phthalate and lead–free materials. Realistic, educational, and fun, this figurine is suitable for a range of interests, including collectors, enthusiasts, teachers, and kids.

PRODUCT SPECIFICATIONS – This Designer Toob contains 6 gnome figurines that range from 1.5 to 2.5 inches tall, while the Toob itself measures 1.75 inches long, 1.75 inches wide, and 10.5 inches tall, a little smaller than the size of a standard American ruler. Non-toxic and BPA free.