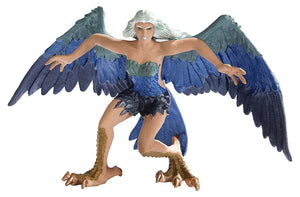 Description:
WIND SPIRIT – In mythology a harpy was a half human, half bird personification of storm winds. She's said to have originally been a wind spirit and is often depicted with lovely hair. Today there is a real bird, the harpy eagle, named after the mythological creature.

HUNGRY HARPY – Harpies feature in many Greek and Roman tales and poems, often as antagonists who harass travelers on long journeys. The word "harpy" means "snatcher", and they are known for stealing food to feed their insatiable appetites. They are also known for carrying evildoers to be judged by the Furies, goddesses of vengeance.

MADE WITH INDUSTRY–LEADING STANDARDS – Like all Safari Ltd products, this figurine has been individually hand painted, features quality construction from phthalate and lead–free materials, and includes an educational hangtag in 5 languages.

REALISTIC APPEARANCE FOR MULTIPLE USES – Realistic, educational, and fun, this figurine is suitable for a range of interests, including collectors, enthusiasts, teachers, and kids. Admire it on a shelf, use it in the classroom, or simply enjoy playing with it.

PRODUCT SPECIFICATIONS – Harpy figure features a wingspan of just over 5 1/2 inches and stands nearly 4 inches tall. She's got pearly, blue-white hair, and her feathers are three different shades of blue. The scales and talons on her legs and feet are golden, and her skin is a light tan color.