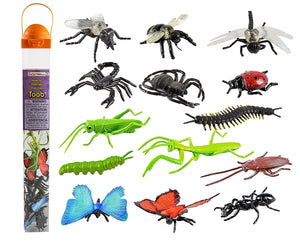 Description:
SET OF 14 CREEPY CRAWLERS – Insects are amazing creatures, though sometimes it's best to encourage imaginative thinking with realistic models rather than the real thing. This TOOB comes with 14 memorable insects, including a caterpillar, dragonfly, centipede, grasshopper, housefly, ladybug, spider, honeybee, cockroach, scorpion, praying mantis, ant, and 2 butterflies.

COMES IN CONVENIENT TOOB – All these insects pack neatly into a reusable tube, making them easy to store and carry-along. For cleaning, just wipe with a damp cloth.

TOYS THAT TEACH – Each tube comes with educational information and a convenient carrying loop. Insects represent over 90% of animal life forms on earth, and the Insects TOOB will help children learn about this small and incredibly diverse group of animals.

MADE WITH INDUSTRY-LEADING STANDARDS – Even though they're small, each figurine has been individually hand-painted, is detailed and realistic, and features quality construction from phthalate and lead-free materials.

TOOB SPECIFICATIONS – This Safari TOOB contains 14 figures. Replica size ranges from 1.5" to 3." TOOB measures 2"L x 2"W x 12.9"H. For ages 3 and up.