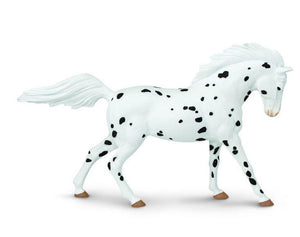 Description
Much like its American cousin, the Appaloosa, the European Knabstrupper has inherited genes from prehistoric ponies that give it a distinct, spotted coat. Because of its quick wit and tall, long-limbed body, the Knabstrupper is commonly bred for equestrian sports, including dressage and driving.
Scientific Name: Equus ferus caballus
Characteristics: Knabstruppers are regarded as kind and gentle, but also incredibly intelligent, inquisitive, and even a bit nosey. This horse is sprinting over to meet you, and would make a great gift as a piece of décor for a horse lover, as a toy, or even as a topper for a cake congratulating someone for graduating rider's school!
Size and Color: Standing 7 inches long and 3.75 inches tall, this figurine is a bit shorter but taller than a 16 oz. water bottle on its side. The Knabstrupper has a truly distinctive coat when it comes to horses, and is almost always bright white with black, bay, or chestnut spots, although the amount of spots can vary widely.
 Non-toxic and BPA free