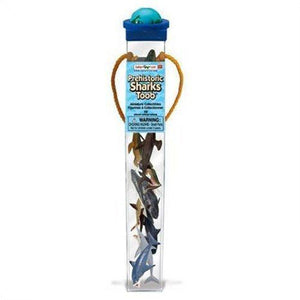 Description:
SET OF 12 PREHISTORIC FIGURINES - Go back in time with some of the coolest sharks to swim the ocean with our prehistoric sharks TOOB. The prehistoric sharks TOOB contains 10 toys, including Edestus, Hybodus, Cretoxyrhina, Sarcoprion, Cladoselache, Xenacanthus, Stethacanthus, Orthacanthus, Helicoprion and Scapanorhynchus.

COMES IN CONVENIENT TOOB - All of these figurines pack neatly into a reusable tube, making them easy to store and carry-along. For cleaning, just wipe with a damp cloth.

TOYS THAT TEACH - Each TOOB comes with a spinning globe top and educational facts inside. The Safari Ltd Prehistoric Sharks TOOB will help children learn the names and history of some of the Prehistoric Sharks. These figurines are great for craft projects, gifts at parties, classroom rewards, and more.

MADE WITH INDUSTRY-LEADING STANDARDS - Even though they're small, each figurine has been individually hand painted, is detailed and realistic, and features quality construction from phthalate and lead-free materials.

TOOB SPECIFICATIONS - This Safari TOOB contains 10 figures. Replica size ranges from 1.5" to 3." TOOB measures 2"L x 2"W x 12.9"H. For ages 3 and up.