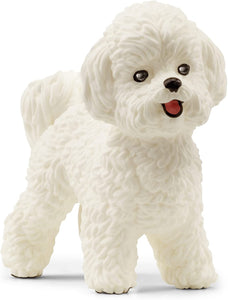 Schleich Bichon Frise Toy Figure
AUTHENTIC DESIGN. Everything you love about a Bichon Frisé…finally, a toy dog we can call "child's best friend."

QUALITY YOU CAN SEE & FEEL. Durable enough to survive toyboxes, farm chores, and whatever adventure stories a child can dream up.

BEAUTIFULLY DETAILED. From the bottoms of the paws to the tip of the tail, you'll see the iconic schleich detail everywhere.

DOG GIFTS FOR KIDS. Part of an ever-growing collection of toy dogs and other animal toys from schleich Farm World.

KIDS FARM TOYS. This schleich product is part of the FARM WORLD theme world and is suitable for children from 3 years of age.