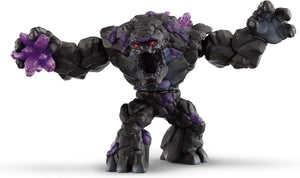 Schleich Eldrador Shadow Stone Monster #70158
INCREDIBLE, INSPIRATIONAL, AND IMAGINATIVE TOYS - The Shadow Stone Monster, a highly detailed monster toy from Schleich, is intricately designed, from its granite-like grimace to its boulder-like battle stance, making it a great addition to any toy collection.

MYTHICAL CREATURES, MEGA CREATIVITY - With a rotating torso, swiveling arms, and movable jaw, this highly interactive monster toy figurine encourages kids to imagine and engage in playtime battles.

HOURS OF IMAGINATION AND ENTERTAINMENT FOR KIDS - Designed with storytelling in mind, Schleich toys are meant to spark the desire for imagination and storytelling in kids across the world, transporting children into a world of fantasy and adventure with their toys!

GENERATIONS OF IMAGINATION FOR KIDS OF ALL AGES - Long-lasting, super durable and highly detailed toys from Schleich are the perfect way to ignite your child's imagination and fun. With a huge catalog of fairies, monsters, characters, dinosaurs and animals across a variety of playsets and figurines, you can be sure that your child will experience all the magic and wonder of childhood while making memories for years to come.