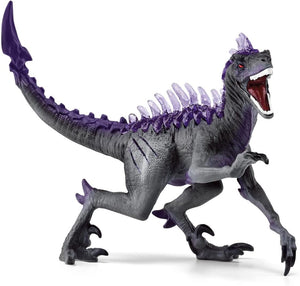 Schleich Eldrador Shadow Raptor
AUTHENTIC DESIGN. Shadows gather over Eldrador and a mystical fog stretches over the land – the Shadow Raptor is on the prowl!

QUALITY YOU CAN SEE & FEEL. Hold a schleich toy in your hand and you'll feel the difference – these toys raise the bar on quality.

BEAUTIFULLY DETAILED. Every glistening scale and menacing claw makes you feel you're part of the action.

MONSTER GIFTS FOR KIDS. A perfect gift for kids with giant imaginations – let their imaginations run wild!

TOYS FOR KIDS AGE 5 AND UP. This schleich product is part of the ELDRADOR CREATURES theme world and is suitable for children ages 5 and up.