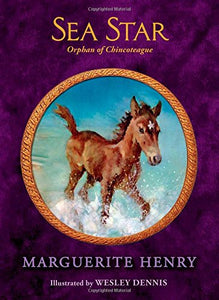 Movie men have come to Chincoteague to film the annual Pony Penning, and Paul and Maureen are thrilled—until they learn that the producers want to buy their beloved Misty. Reluctantly, they agree to sell in order to send their uncle to college. But how will they ever fill the lonely place that Misty leaves behind?

Finding an orphaned colt helps Paul and Maureen deal with their loss, and they soon discover that little Sea Star needs them just as much as they need him.

This classic story from Newbery Award–winning author Marguerite Henry features the original text and illustrations in a gorgeous collectible hardcover edition.