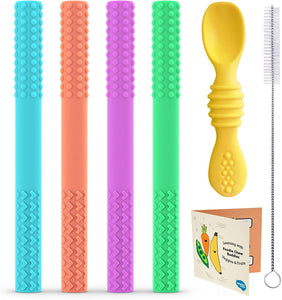 COMPLETELY HOLLOW, SOFT & FLEXIBLE - With years of experience in the sensory silicone industry, we've designed the most soothing and satisfying teething tube bundle for your 0-12 baby! Our hollow, flexible, easy-to-hold teether toys are just the right size to reach your baby's molars and gums.

4 SENSORY TEXTURED TUBES -  beautiful, hollow pastel tubes are designed with irresistible double-sided sensory textures and are a must-have for teething boys and girls. Our teething tubes are suitable for babies 0-6 and 6-12 months old.

BONUS TRAINING SPOON, BRUSH & BOOKLET - mini, easy to hold silicone baby training spoon is designed to help your little one make the transition from teething to feeding. In addition, we've included a wider cleaning brush to keep the straw shaped tubes safe and hygienic, as well as a learning booklet to get your baby started on early learning milestones

!

100% SAFE AND NON-TOXIC - Made of 100% food-grade silicone, completely safe for children and free of any toxins such as lead, latex, BPA, PVC, and phthalates.