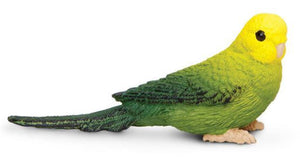 Also known as the budgerigar and the parakeet, the green budgie is a predominantly green, yellow, and black parrot found throughout Australia. They are extremely plentiful in their native habitat, and are the third most popular pet in the world!
Scientific Name: Melopsittacus undulatus
Characteristics: Individually hand painted and artfully designed for life-like realism and scientific accuracy, all Safari figurines are exceptional as toys for play, teaching aids, pieces of décor, and more. No matter how you use or where you put this beautiful budgie, you don't have to worry about it flying away!
Size and Color: Like all green budgies, this feathered friend features bright yellow and green plumage, with black accents along the wings and tail. 3 inches long and 1.75 inches tall, this figurine is a touch shorter than a deck of cards stood on its side.
The Green Budgie is part of the Wings of the World Birds collection
Non-toxic and BPA free
Recommended Age:

3 yrs and up
Size:

3.51" L x 0.98" W 1.48" H x ( 9 cm x 2.5 cm x 3.8 cm )