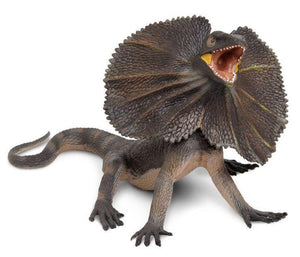 Frilled lizards inhabit the woodlands and forests of southern New Guinea and northern Australia. Its name comes from the large frill around its neck, which it uses as a defense mechanism to scare away potential predators.
Scientific Name: Chlamydosaurus kingii
Characteristics: Although this lizard has its frill blossomed out, we promise it's no danger to you! Individually hand painted and sculpted, this model makes an excellent gift for any and all nature lovers.
Size and Color: 11.5 inches long and 6.5 inches tall, our frilled lizard figurine is about as long as a standard American ruler and roughly an inch taller than a soda can. Frilled lizards generally take on the color of their habitat, and can be any mixture of orange, red, brown, grey, and dark green.
The Frilled Lizard is part of the Incredible Creatures® collection.
Non-toxic and BPA free.
Recommended Age:

18 months and up
Size:

10.92" L x 7.22" W 6.05" H x ( 28 cm x 18.5 cm x 15.5 cm )