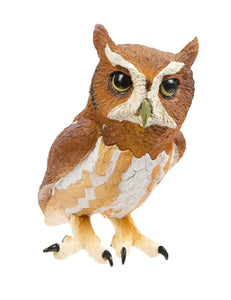 Ranging from Mexico to Canada in Eastern North America, these nocturnal birds are known for their unmistakable drawn-out calls. The Safari Ltd Incredible Creatures Eastern Screech Owl is beautiful and realistic, but unlike those found in the wild it won't keep you up a night.

Part of the Incredible Creatures collection, which features extra-large, true-to-life vinyl replicas of some of the most amazing creatures in the world.

Made with Safari Ltd's industry-leading standards, this product has been individually hand painted, features solid construction from quality, safe, phthalate-free and lead-free materials, and includes an educational hangtag in 5 languages.

Suitable for collectors, enthusiasts, teachers, and kids, you can admire it on a shelf, use it in the classroom, or simply enjoy playing with it.

Lifelike from ear tufts to tail feathers, the Safari Ltd Incredible Creatures Eastern Screech Owl measures 4.99"L x 3.08"W x 4.88"H.