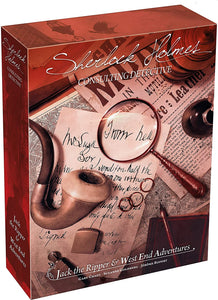 NEW STANDALONE IN THE SERIES: Enter the gaslit world of Sherlock Holmes and put yourself in his shoes as you work to solve the most devious cases. With a new map of London and Whitechapel district, new newspapers for every case, and ten new casebooks, it's time to put your mind to the test!

MYSTERY BOARD GAME: Solve mysterious cases by interviewing suspects, searching newspapers and walking the streets for clues. Once you have completed your investigation, compare your detective skills to the master sleuth himself, Sherlock Holmes.

COOPERATIVE GAME: Players work together as a team of detectives to gather clues and solve mysteries. The dynamics of this game make it a perfect choice for game night with friends and family. Whether you're playing alone or with up to eight players, you'll need everyone's wits to work together and solve the case.

TEN EPIC CASES TO SOLVE: This set includes six classic cases especially reworked for the new Sherlock Holmes Consulting Detective series. The other four cases form a linked campaign that challenges you to stop the murders of the notorious Jack the Ripper. LOOKING FOR MORE MYSTERIES? Check out the other standalone games in the series.

NUMBER OF PLAYERS AND AVERAGE PLAYTIME: This thrilling detective board game for adults and teens can be played with 1 to 8 players and is suitable for ages 12 and older. Average playtime is about 90 minutes.