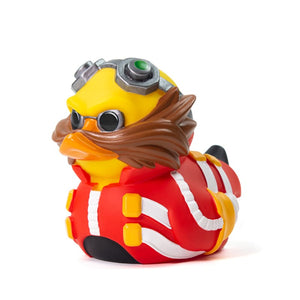 Official SEGA merchandise.
Designed and engineered by Numskull Designs.
TUBBZ – your favourite video game, movie, TV show, and comic book characters come to life as cosplaying ducks.
Collect them all – 4 to collect in the Sonic the Hedgehog TUBBZ range.
Display box – comes in a collector's bathtub display box, featuring the Sonic the Hedgehog logo and the ability to stack on top of other TUBBZ.
Premium collectables – highly detailed features and made from high-quality PVC.
Approximately 9cm (3.54") tall when outside of tub display stand (some may vary).
As a maniacal genius inventor trying to conquer the world, it's always safe to assume that Dr. Eggman has an evil plan to hatch, even if he's now taken the form of a duck. This officially licensed collectable is part of the TUBBZ range, a highly collectable series of your favourite gaming, movie, TV show, and pop culture characters in duck form! Featuring incredibly detailed features, this amazing collectable comes complete in a displayable tub box.