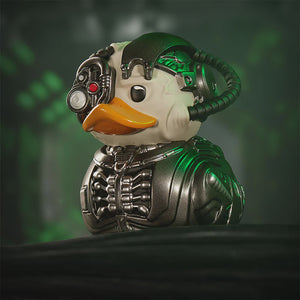 Star Trek Borg Tubbz Cosplaying Duck Collectible
Resistance is futile. Prepare to join the Collective as the iconic hive mind species has begun their assimilation with this Borg duck hybrid! Coming boxed in an awesome displayable 'Star Trek' tub display stand, this one of a kind collectible is great for fans of the series to stock up on.
Official Star Trek merchandise.
Designed and engineered by Numskull Designs.
TUBBZ – your favourite video game, movie, TV show, and comic book characters come to life as cosplaying ducks.
Collect them all – 10 to collect in the Star Trek TUBBZ range.
Display box – comes in a collector's bathtub display box, featuring the Star Trek logo and the ability to stack on top of other TUBBZ.
Premium collectibles – highly detailed features and made from high quality PVC.
Approximately 9cm (3.54") tall when outside of tub display stand (some may vary).