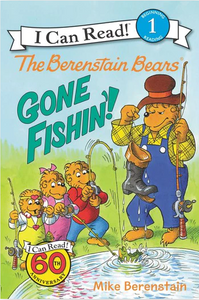 I CAN READ LEVEL 1 BOOK: THE BERENSTAIN BEARS: GONE FISHIN'
Take a fishing trip with Papa, Brother, Sister, and Honey in this lively addition to the classic New York Times bestselling Berenstain Bears series.
Papa can't wait to use his fancy new gear on a fishing trip with his cubs. But Brother, Sister, and Honey prefer to fish with their bamboo poles and bent pins. Can the cubs' simple tools be any match for Papa's shiny new gear?
The Berenstain Bears: Gone Fishin'! is a Level One I Can Read book, which means it's perfect for children learning to sound out words and sentences