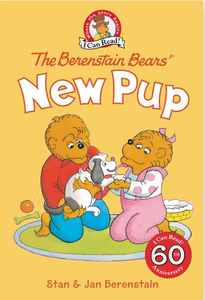 I CAN READ LEVEL 1 Book: THE BERENSTAIN BEARS' NEW PUP
The Berenstain Bears' New Pup is a special paper-over-board commemorative edition celebrating the 60th Anniversary of I Can Read books for beginning readers. Eight bonus pages recount I Can Read's history, including a time line, never-before-seen sketches, and origin stories of beloved I Can Read characters.  This beautiful edition is perfect for gift-giving.
Mama and the cubs take a trip to get some farm–fresh eggs, but they end up getting a farm–fresh pup! Now Brother and Sister have to learn to take care of Little Lady, the newest addition to the family.
The Berenstain Bears' New Pup is a Level One I Can Read book, which means it's perfect for children learning to sound out words and sentences