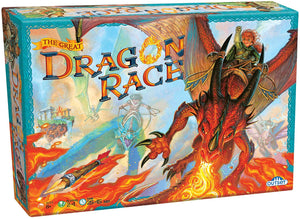 Outset Media The Great Dragon Race Board Game
It's the first day of the International Dragon championships in the land of floating Isles.

Everyone will enjoy choosing a dragon rider and pretending to be one of the skilled team members from Harley and Rose, Ginger and Fuego, Asuka and Qing and Indigo and Queza.

There are story cards included so you can learn about the background of each dragon and its rider.

Amazing, colourful, bold and original art work by artist Chris Seaman.

Playing time is 25-45 minutes and it's a perfect family game for 2-4 players.