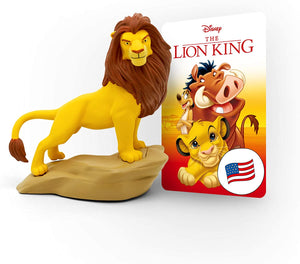 Tonies Simba Audio Play Character from Disney's The Lion King
When Scar plots to usurp the throne, young Simba is forced to grow up and work together with friends to protect his beloved homeland.

Teaches children about strengthening family & friendships bonds, perseverance through adversity, leadership & responsibility, and learning about new communities.

Includes Simba toy character with 4 songs, 1 story, and total run time of approximately 30 minutes. Recommended Age Range: 3+, Language: English, Narrated by Robert Guillaume.

Tracklist: Songs: Circle of Life, Hakuna Matata, I Just Can't Wait to Be King, Can You Feel the Love Tonight. Story: The Lion King.

Requires Toniebox Audio Player to play audio; sold separately.