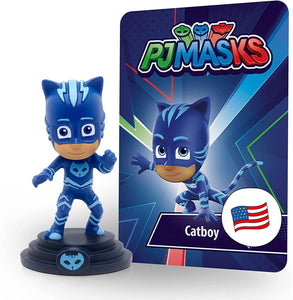 Tonies Catboy Character from PJ Masks
Catboy is one of the fearless members of the PJ Masks! Through friendship, bravery and Super Cat Speed, Catboy helps to keep the city safe. Follow along as Catboy leads listeners through some of his action-packed adventures against night-time villian Romeo.

Teaches kids about teamwork, friendship, bravery, making good choices.

Includes Catboy toy character with 2 songs, 3 stories and total run time of approximately 64 minutes. Recommended Age Range: 4+, Language: English.

Tracklist: Songs: PJ Masks Theme Song, The Bravest Cat. Stories: Catboy vs. Robo-Cat, Catboy Squared, Super Super Cat Speed.

Requires Toniebox Audio Player to play audio; sold separately.