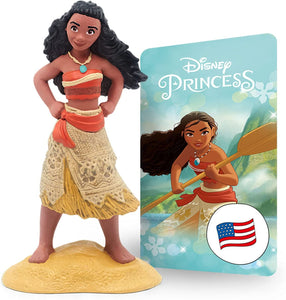 Tonies Moana Audio Play Character from Disney
Moana sets sail on a mission to save her people. Along the journey, she meets the powerful demigod, Maui. Together, they embark on an incredible adventure across the sea.

Teaches children about bravery, friendship, and perseverance.

Includes Moana toy character with 5 songs, 1 story, and total run time of approximately 35 minutes. Recommended Age Range: 4+, Language: English.

Tracklist: Songs: You're Welcome, We Know the Way, Where You Are, How Far I'll Go, and Shiny: Story: Moana

Requires Toniebox Audio Player to play audio; sold separately.