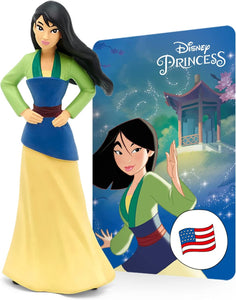 Tonies Mulan Audio Play Character from Disney
Listen along as Mulan disguises herself as a male warrior and joins the military to prevent her sick father from being forced to enlist. Accompanied by her faithful dragon, Mushu, she helps ward off an invasion and falls in love along the way.

Teaches children about confidence, courage, and staying true to yourself.

Includes Mulan toy character with 4 songs, 1 story, and total run time of approximately 30 minutes. Recommended Age Range: 3+, Language: English, Narrated by June Foray.

Tracklist: Songs: Honor to Us All, I'll Make a Man Out of You, A Girl Worth Fighting For, and Reflection. Stories: Mulan.

Requires Toniebox Audio Player to play audio; sold separately.