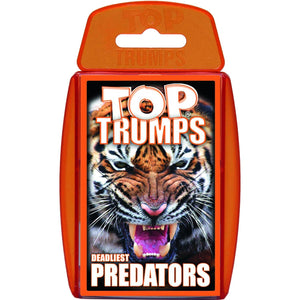 Description:
The deadliest, most efficient killing machines of the animal kingdom all get their moment fame in this fascinating edition of Top Trumps. Predators rely on physical attributes that enable them to outrun, outfly, overpower poison or overwhelm through sheer numbers to kill in order to survive. All except the deadliest killer of them all.
30 cards in each game

Engaging content: facts, stats, and info to support image!

This proprietary brand is endorsed by educators and encourages camouflaged learning. Helps improve literacy, numeracy, and critical thinking.