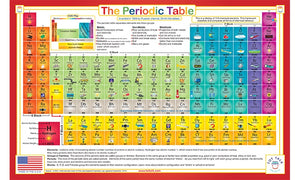 Learn about the periodic table and the 118 elements. Take a quiz and memorize useful equations on the back side. Covers chemistry essentials like: How to find the Mass Number; What happens when you remove a Proton from an Atom; What is the Atomic Number: and much, much more!
  Safety-Approved  

    Award-Winning

    Anti-bacterial - Wash with dish soap; placemats dry quickly

    Use dry erase or washable markers.  

    Clean dry erase markers with dry eraser or dry towel (do not use water on dry erase markers)

    Clean washable markers with dish soap, water, spray bottle, wet paper towel

    Used in homes, schools and on the go, traveling or in a restaurant.

    Age Recommendation:  5 -100

    Lightweight and durable.  

    Dimensions:  17.5" x 11.5"