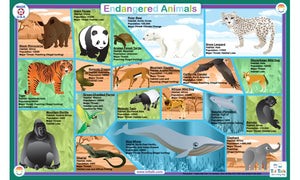 Learn early about animals and their welfare and our roles we can play in helping insure all species are here long-term. Tot Talk's Endangered Animals placemat features a few of the most endangered animals. On the back side, five heroes are featured that have dedicated their lives to helping species live on in their natural habitats and educating humans about these fascinating creatures, that belong here as much as we do! 
MADE IN USA
Safety-Approved  
Award-Winning
Anti-bacterial - Wash with dish soap; placemats dry quickly. 
Use dry erase or washable markers.  Kids can also wipe clean with paper towel or eraser.  A spray bottle is fun too!  
Used in homes, schools and on the go, traveling or in a restaurant.
Age Recommendation:  2 - 6
Lightweight and durable.  
Dimensions:  17.5" x 11.5"