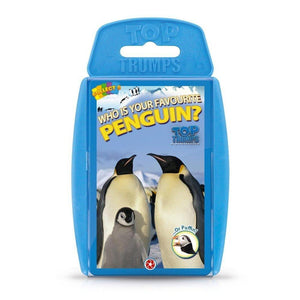 Description:
Penguins are joining the Top Trumps range, and that's cool because, under their cuddly and clumsy appearance, Penguins are actually amazingly strong animals with astonishing abilities! Learn all about your favorite birds and discover how they're loosely related to Puffins, Auks and Guillemots. ...But are they? Snow way!
30 cards in each game

Engaging content: facts, stats and info to support image!

This proprietary brand is endorsed by educators and encourages camouflaged learning. Helps improve literacy, numeracy and critical thinking.