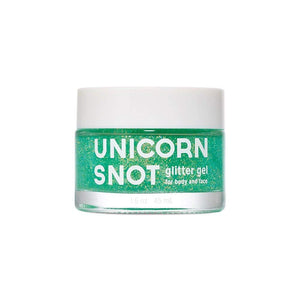 Unicorn Snot Glitter Gel-Holographic Blue
ETHICAL: Vegan and cruelty-free product. We respect all animals, magical and otherwise.

SPARKLE SAFELY: Glitter Gel is not made for your eyelids or any application close to the eye. Please do not rinse glitter down the drain we want to keep our aquatic friends safe, too.

STARS IN A JAR: Glitter gel is a one-of-a-kind, multiuse makeup guaranteed to make you shimmer and shine. Who says the festival season isn't year round?

LOW MAINTENANCE: Bold look. Glitter Gel doesn't require any primers or adhesives! Simply swipe on and when you're ready to remove, Glitter Gel easily comes off with regular makeup removal wipes, baby wipes, or a makeup-remover-aided cotton pad.

INGREDIENTS: Water/Aqua, Alcohol, Glycerin, Polyethylene Terephthalate, Propylene Glycol, Diazolidinyl Urea, Carbomer, Methylparaben, Epoxy Resins, Propylparaben, Sodium Hydroxide. 1.6 fluid oz./ 45ml.