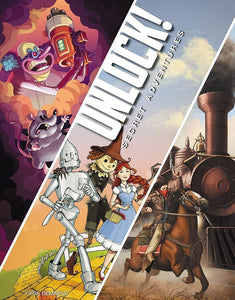 A COOPERATIVE CARD GAME INSPIRED BY ESCAPE ROOMS: Unlock! captures the exhilarating, heart-pounding excitement of a physical escape room adventure without leaving the tabletop. With one hour on the clock, players work through a deck of 60 cards to solve puzzles. Once the team enters the correct code into the companion app, they win!

STRATEGY GAME: Search the scenes, combine objects and solve puzzles! Players must use quick thinking and deductive reasoning to progress through each Adventure. Each scenario challenges players in unique and interesting ways.

THREE FRANTIC ADVENTURES: The tricky Professor Noside returns in "A Noside Story," a continuation of the cartoon-style adventure. Players hop aboard a train in the western-themed "Tombstone Express" to prove their deductive and gun-slinging skills. In "The Adventurers of Oz," players visit the Wizard of Oz and challenge the Wicked Witch of the West.

PERFECT FOR EVERYONE: UNLOCK! is easy to learn and play with the help of a special Tutorial Adventure and multiple levels of difficulty. The free companion app supports integrated gameplay by having players input codes, interact with machines, and receive hints.

NUMBER OF PLAYERS AND AVERAGE PLAYTIME: UNLOCK! is a cooperative card game for adults and families designed for 1 to 6 players and is suitable for ages 10 and older. Average game time is approximately 60 minutes.