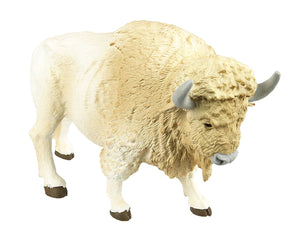 Description:
RARE AMERICAN BUFFALO – A white buffalo is extremely rare and can result from a number of physical conditions, including albinism, leucism, and other genetic abnormalities. They were considered sacred by Native Americans, who revered white buffalos as a sign of hope, harmony, and peace.

PART OF THE WILD SAFARI NORTH AMERICAN WILDLIFE COLLECTION – From the frozen tundra of northern Canada to the plains of the American frontier, the Wild Safari North American Wildlife Collection represents the many animals, great and small, that call North America home.

MADE WITH INDUSTRY-LEADING STANDARDS – Like all Safari Ltd products, the Safari Ltd White Buffalo has been individually hand painted, features quality construction from safe, phthalate and lead-free materials, and includes an educational hangtag in 5 languages.

REALISTIC APPEARANCE FOR MULTIPLE USES – Realistic, educational, and fun, this figurine is suitable for a range of interests, including collectors, enthusiasts, teachers, and kids. Admire it on a shelf, use it in the classroom, or simply enjoy playing with it.

PRODUCT SPECIFICATIONS – Measures 5"L x 3"H. For ages 3 and up.