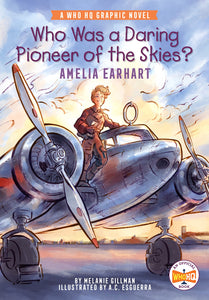 Who Was a Daring Pioneer of the Skies? Amelia Earhart Graphic Novel
Presenting Who HQ Graphic Novels: an exciting new addition to the #1 New York Times Best-Selling Who Was? series!

Explore the story of Amelia Earhart, as she embarks on her second and final journey around the globe. A story of determination, heart, and courage, this graphic novel invites readers to immerse themselves into the daring grit of the aviation pioneer -- brought to life by gripping narrative and vivid full-color illustrations that fly off the page.